Product Categories
Contact Us
Hilamp Electronic Lighting Co.,Ltd.
Add: NO.1601 Room, New Vanke Building, No.526 Long Jin Road, Liwan Dis., Guangzhou, China
Tel: +86-20-81191770
Fax: +86-20-81191790
Ph: 15917453429
Email:
info#hellighting.com
Xicato Signed A Distribution Agreement With CDI Enter For Smart Lighting
Nov 01, 2016
Xicato, an established manufacturer and thought leader in intelligent, connected light sources, today announced that they have signed a distribution agreement with Component Distributors Inc. (CDI), a leading value added distributor of high performance LED, power, wireless and sensor component technologies.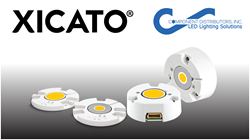 Xicato signed a distribution agreement with Component Distributors Inc. (CDI). (Xicato/LEDinside)

Xicato has a global reputation for producing the industry's highest quality LED light sources and integrated, intelligent modules, and is the only company in the world that provides a "zero failure" (B0) 7-year warranty on its light sources and integrated electronics. The Xicato warranty has long guaranteed initial color consistency, lumen maintenance, and color maintenance with virtually no color shift. More recently, the company has integrated a world-class driver and lighting controls into its XIM product family, providing smooth, deep (0.1%) dimming with the world's best flicker performance, meeting IEEE1789 standards. The XIM supports the Xicato verifiable 7 year, 50,000-hour warranty by storing actual operating hours, temperature and intensity profiles for the life of the module.
Xicato has this week launched XIM Generation 4, a compact lighting module that is at the center of an open standards-based, integrated, wireless system designed to address the shortcomings of current control systems, including cost, complexity, and lack of interoperability. XIM Gen 4 vastly simplifies and reduces the cost of designing, installing, commissioning, operating and maintaining a controlled lighting environment, and enables a host of new location- and data-based services. It is part of a suite of compatible products that also includes mobile and desktop software, sensors, gateway, and OEM programming tools.
Xicato is a long time member of the Bluetooth Special Interest Group (SIG), and promotes open standards and API's to support simple, effective, flexible and affordable lighting control solutions that can be easily adapted for specific applications. All Xicato's XIM Gen 4 products are forward compatible with the emerging Bluetooth Mesh standard.
According to Menko De Roos, CEO at Xicato, "We have learned that there is a huge interest in custom controls and integration into other management software. The first week our app was on the app store we had hundreds of downloads, just for the beta trials we were doing and months before our official XIM Gen 4 launch. CDI is already providing Bluetooth beacons, sensors, and dedicated software and services to its customers, and we see them as the perfect partner to support a truly value added channel strategy in The America's."
"We were actively developing a controls strategy," says John "Bucky" Williammee, CEO at CDI, "and Xicato is the perfect partner. We can now provide software and services to XIM Bluetooth customers that will allow them, in turn, to add true value to their customers. There are no license fees or royalties. Xicato fully supports open API's, so not only can we make XIM work with our sensor and beacon products, but we can also tailor control and other software services for our customers depending on their specific needs. We are very excited about partnering with Xicato to drive this paradigm shift in the lighting industry."
http://www.ledinside.com/press/2016/10/xicato_signed_a_distribution_agreement_with_cdi_enter_for_smart_lighting
Related Products