Product Categories
Contact Us
Hilamp Electronic Lighting Co.,Ltd.
Add: NO.1601 Room, New Vanke Building, No.526 Long Jin Road, Liwan Dis., Guangzhou, China
Tel: +86-20-81191770
Fax: +86-20-81191790
Ph: 15917453429
Email:
info#hellighting.com
More Manufacturers Enter Smart Lighting Market Amidst LED Bulb Price Drops In March
May 16, 2016
Global 40W equiv. LED bulb Average Selling Price (ASP) dipped slightly by 1.3 percent in March to US $14.9, with price decrease most evident in China, according to latest LED bulb retail findings for March 2014 from LEDinside, a division of research organization Trendforce's. ASP for 60W equiv. LED bulbs basically remained flat at US $ 20.8.
As global LED bulb ASP dropped slightly in March, many manufacturers have entered the smart lighting market, according to data compiled by LEDinside. Osram joined the ranks of Philips and Samsung with their LIGHTIFY smart control system. Similar to other smart lighting systems, LIGHTIFY interface is based on handheld devices with WiFi Internet connection. A Gateway paired with Zigbee wireless transmission acts as a communication bridge between the luminaire and handheld device. Currently, one Gateway can control around 50 light fixtures.
Other manufacturers such as manufacturer LG have recently formed a partnership with Daintree to develop built-in Zigbee wireless LED luminaires. Cree has also jumped on the lighting control system bandwagon, and has developed the SmartCast wireless control platform. Integration of smart controls and lighting is anticipated to gradually become the mainstream in the near future.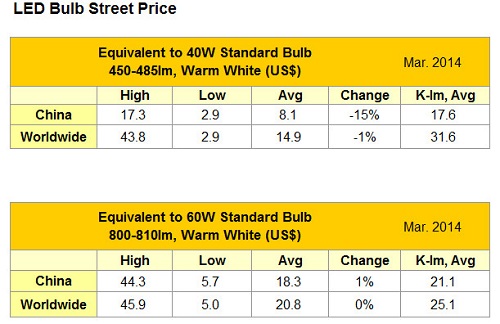 Chinese 40W equiv. LED bulb ASP dipped, but remained steady for 60W equiv. products
In China, 40W equiv. product ASP downed 14.7 percent in March on the back of increased exchange rates. Existing products also dipped in price. Foshan lighting's 7W bulb, for example, decreased from US $4.3 to US $2.9. The bulb has a luminous flux of 450-500 lumens and comes with a two year warranty. HEAD 5W bulbs prices likewise plummeted from US$ 12.3 to US$ 4. The bulb has a luminous flux of 450 lumens and a lifespan of 30,000 hours.
U.S. 40W equiv. LED bulb ASP decreased as well in March by 7.6 percent. Existing products ASP either remained steady or decreased, with certain products showing a clear downward trend. Cree 6W tunable LED bulbs, for example dropped to US $4.97 in some U.S. regions after receiving Energy Star subsidies.
In the 60W equiv. LED product sector, ASP in Japan declined 14.8 percent to US$ 19.2 in March. Existing product ASP dipped slightly, and a portion of high priced products were temporarily terminated, such as Sharp's 10.4W bulb priced at US $32.4. Conversely, LED bulb March ASP rose in UK and German, with price increase most evident in existing products. Ledon's 12W omnidirectional bulb ASP climbed from US$ 20.8 to US$ 34.8 in the German market.
Related Products